Job Market Trends
Thoughts on Q3 and Q4 Trends
By James Hawley, NextPath CEO
No one told the job market we're in a recession…
We are seeing some soft areas for hiring, but overall, there are still far more jobs than skilled people that are looking. In fact, we've seen an uptick in hiring across our clients with August and September about 65% up on new jobs compared to June and July.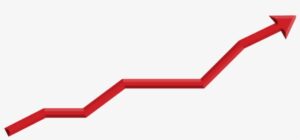 What I expect is a choppy Q4 with some companies growing while others are pulling back. Will be important for candidates to do their homework on a company before accepting a role to ensure stability through a downturn.
---
What Is "Quiet Quitting"?
Quiet Quitting is a new name for an old behavior. People have been disengaged with their jobs since there's been jobs. The only difference is the existence of social media. Until recently, we didn't have TikTok to share our feelings to the world and get millions of views.
We aren't saying boundaries aren't important for someone's quality of life. We all need balance. The right job and company can provide that. Everyone deserves a job they enjoy, that fires them up and fills their happy cup to the brim. If you relate to quiet quitting, it's time to seek out a better job.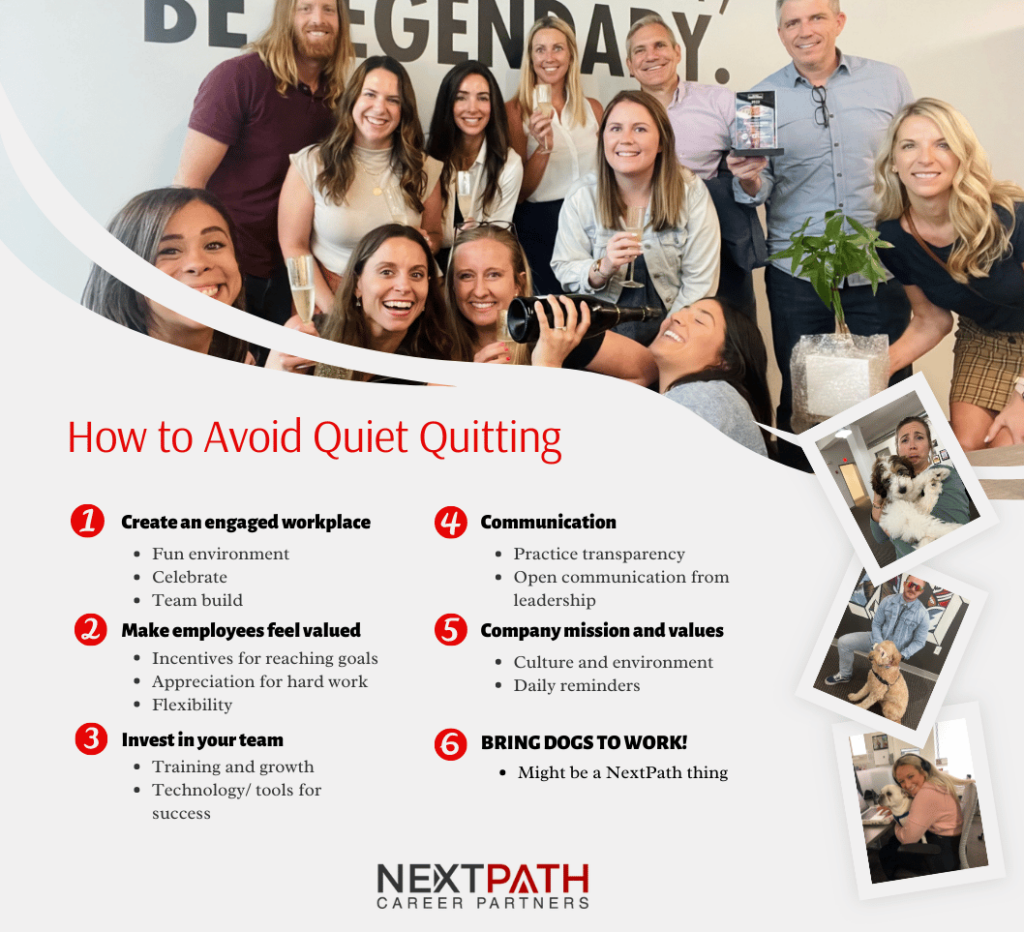 ---
Things To Consider Before A Layoff
Letting people go should never be taken lightly. It's someone's livelihood at risk, and that job allows them to put food on their family's table and a roof over their head. Losing a job, especially unexpectedly, can have catastrophic consequences for people. We've seen companies too easily following their peers by announcing layoffs without doing everything possible to retain those people. Here are 5 things a company should do BEFORE they decide to eliminate someone's job.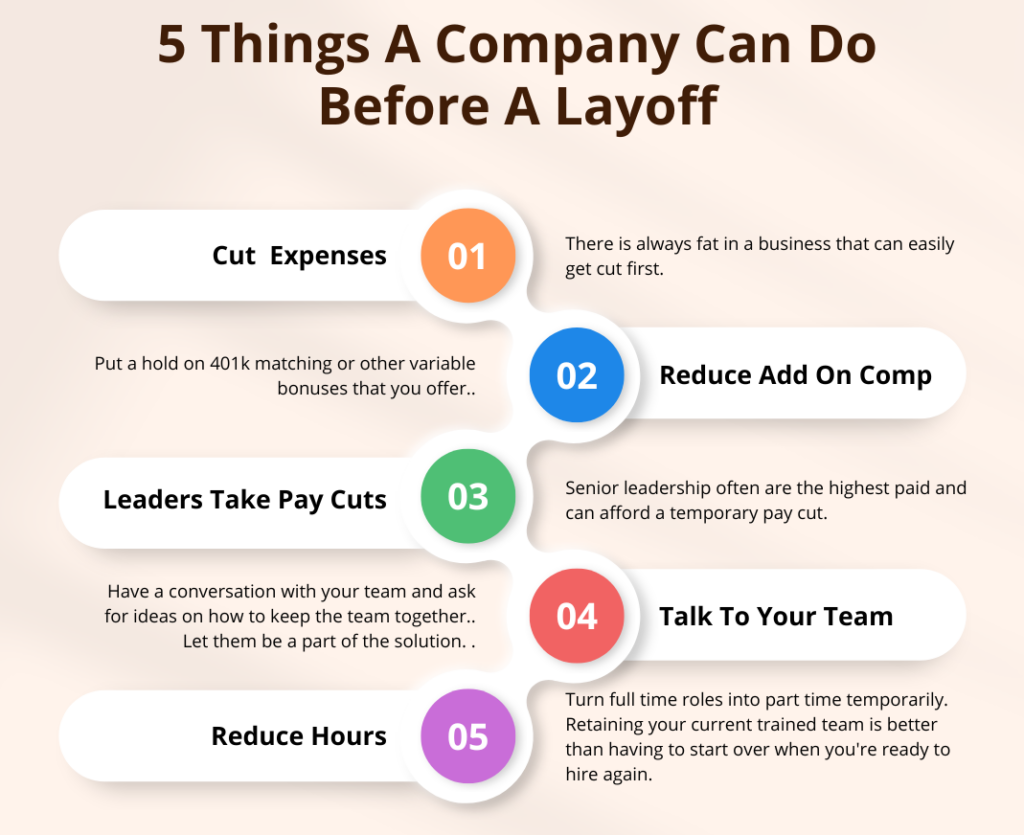 CUT EXPENSES – there is always fat in a business that easily can get cut first. During growth years like we've had companies spend a lot and that builds up quickly. Often these numbers add up quickly. Get aggressive and cut here first.
REDUCE ADD ON COMP – put a hold on 401k matching or other variable bonuses that you can find. Employees will understand and appreciate you are trying to save jobs.
LEADERS TAKE PAY CUTS – the senior leadership often are the highest paid and can afford a temporary pay cut easier than their staff.
TALK TO YOUR TEAM – Have a conversation with your team and lay it out. Let them be part of the solution to try to keep their team together. They might offer ideas you hadn't thought of. Perhaps they all take a % cut temporarily which can save their teams jobs. This can help galvanize a team and bond them to come out on the other side even stronger together.
REDUCING HOURS – Turn full time roles into part time to allow that person to keep their job. They may choose to leave, but it is easier to tighten the belt at home with pay cut than zero income with being unemployed. If this is temporary, then you retain that trained up worker versus having to start over later when you hire again.
---
Top Skills For Your Career
Employers expecting a required skillset for a job is not a new concept. In virtually every job description, past and present, there is a laundry list of skills and prior experience a hiring manager is looking for, in order a candidate to be considered for a job. In the past, however, there have been other factors that could give a person an advantage. For instance, knowing someone who works at the company you are interviewing with or having attended the same school as the person interviewing you, etc. According to a LinkedIn study, however, the new buzzword for employers is "SKILLS". It is less about "who you know" and more about "what you can do".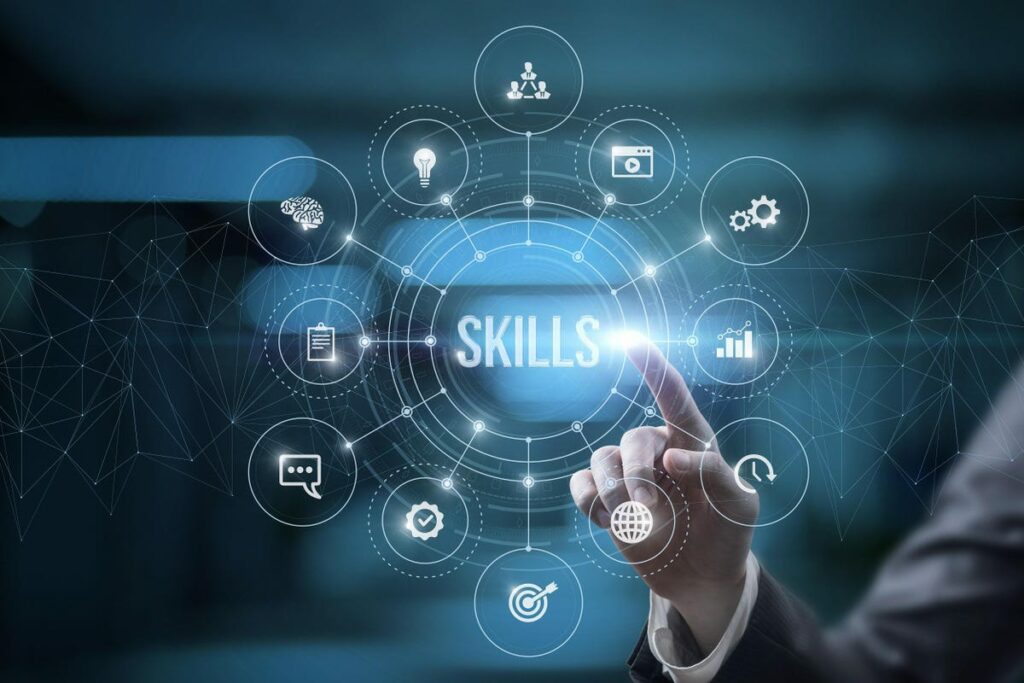 What Can You Do?
The LinkedIn article, Learn Top Skills to Future-Proof Your Career, says that keeping your skills sharp will help you stand out and ultimately improve your career long term. They came up with the top 20 skills LInkedIn members had added to their profiles across all professions, broken out into soft and hard skills. These skills were also found in 78% of all jobs posted on LinkedIn in the past 3 months.
Top Soft Skills
While the hard skills needed to do a job will always be important, soft skills have become just as important. Companies are looking for people that will not only be able to get the job done but also fit into the company culture. About 45% of the LinkedIn Premium jobs posted in the last 3 months lists communication skills as one of the top requirements. Here is the list of soft skills mentioned most.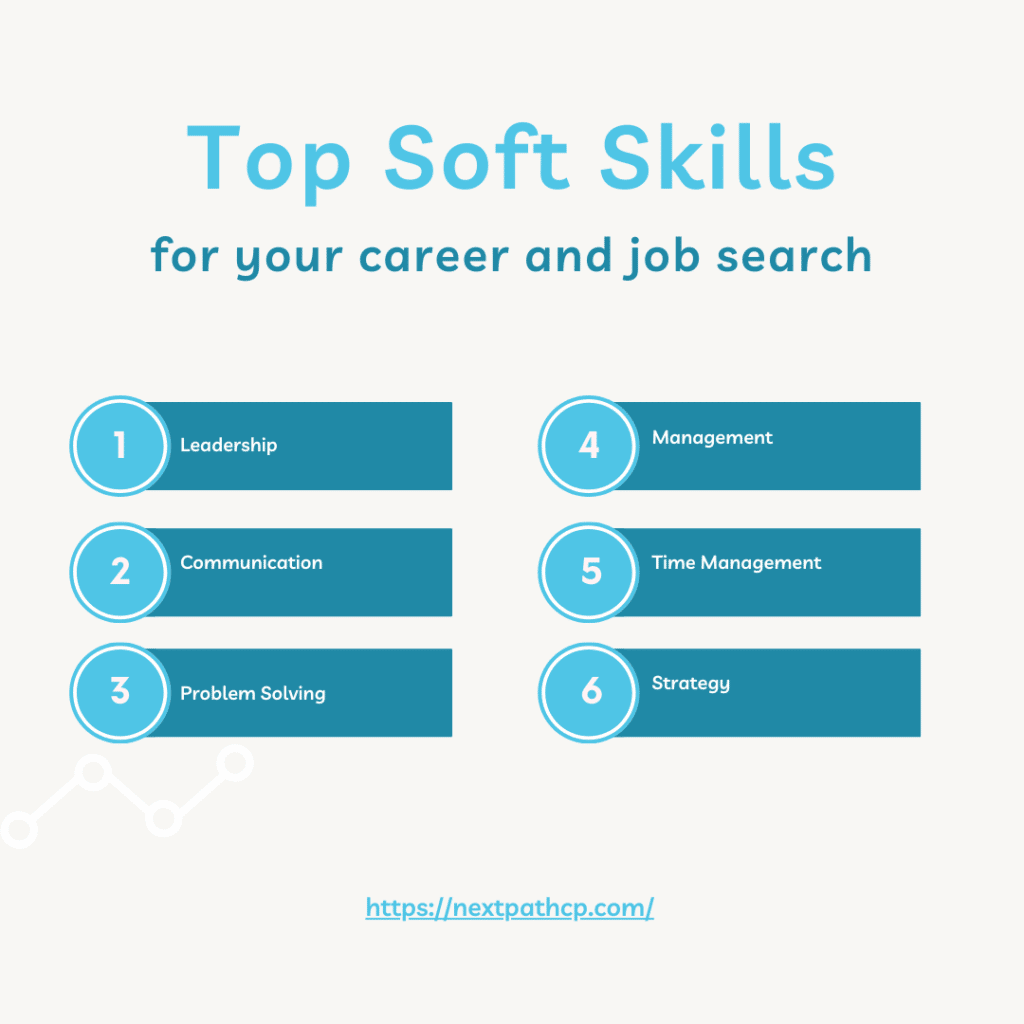 Top Hard Skills
Hard skills are the job specific skills that get a hiring manager or recruiter to pick up the phone and call you. There will always be specific skills necessary for certain jobs. While a lot of these are pretty consistent, some evolve as industries change and as our world changes. Here are the top most mentioned hard skills based on LinkedIn profiles over the last 3 months.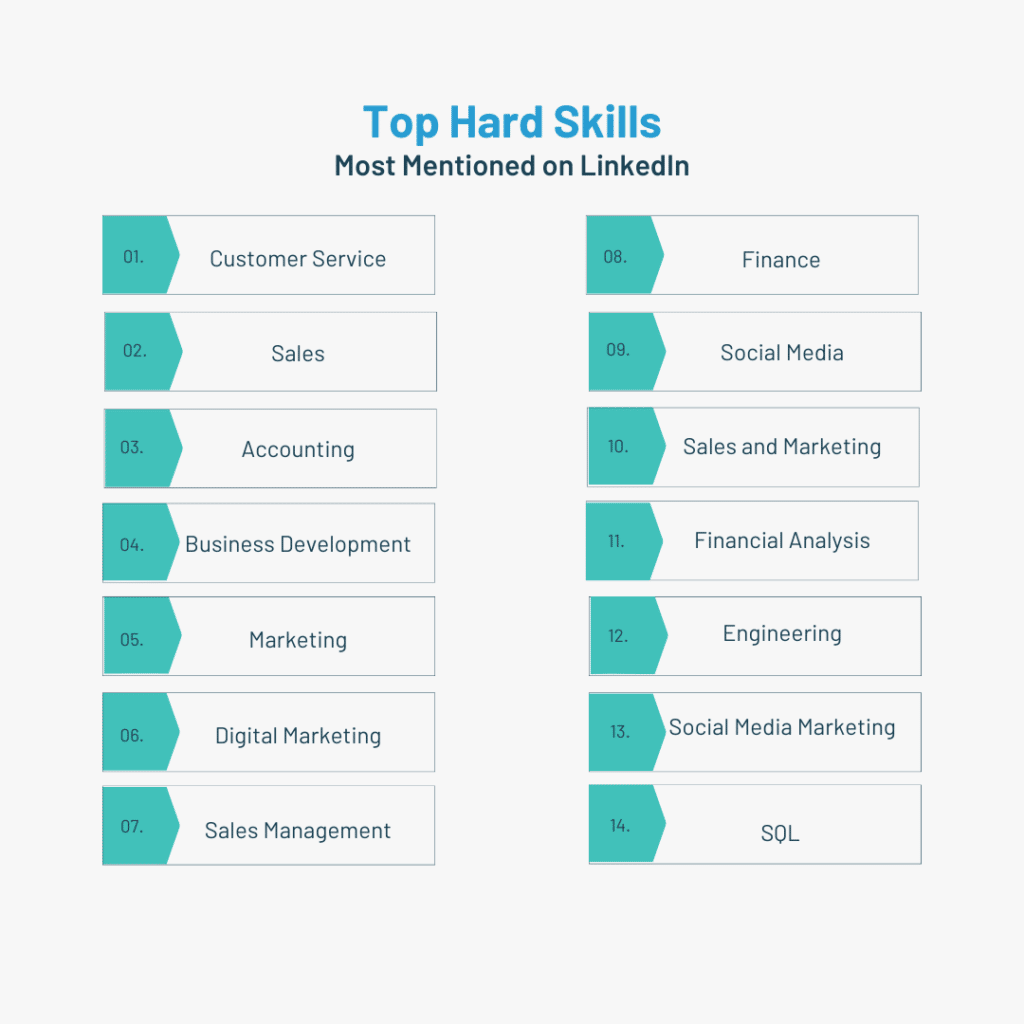 ---
Tech Job Market Remains Strong
Despite threats of recession and layoffs, the tech job market remains strong. The Dice Tech Job Report for the first half of 2022 found that tech job postings grew compared to the first half of last year. Demand for tech talent continues to grow, with the number of job postings growing 45% since the beginning of the year. Dice analyzed 3 million tech job postings from January to June 2022, compared to the same period in 2021 and got these key takeaways.
Key Takeaways
Employers are looking for people who have mastered the skills to guide projects from inception to completion. Ie. Agile Methodology, troubleshooting, and software engineering.
Employers want technologists with data-related skills. Cloud computing had the most year-over-year growth in job postings at 162%. Data storage and processing tools such as Hadoop, HANA, and PaaS (platform as a service) saw significant increase in compensation.
People with core technical skills, such as SQL, Python, Java and AWS, are also in demand. These are the programming languages and platforms that power many organizations.
Traditional tech hubs such as New York City, Chicago, Atlanta, and San Francisco continue to lead in tech jobs but there are some cities gaining traction in the technology landscape.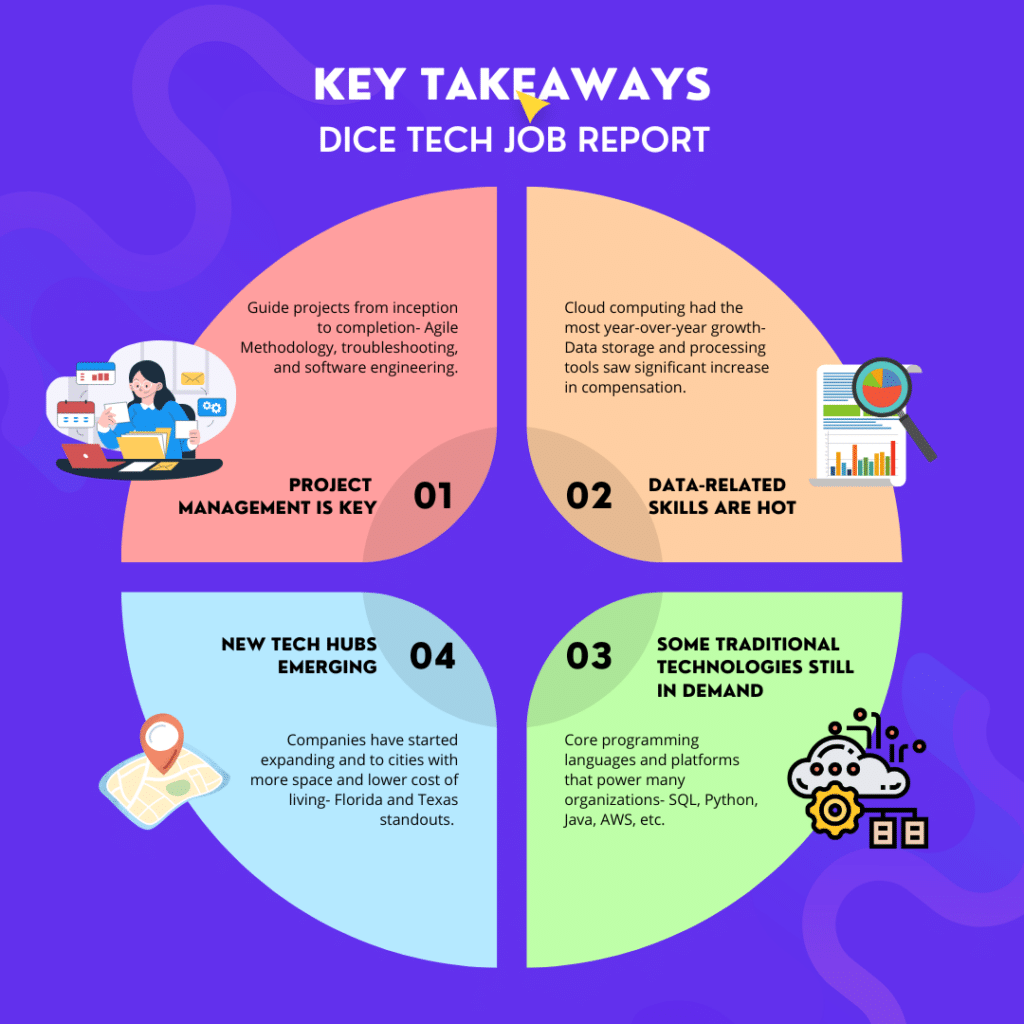 Growing Tech Cities
Technology career opportunities are growing beyond the usual tech hubs that have dominated IT hiring in the past. While this trend had begun prior to the pandemic, it definitely accelerated the growth in tech job postings in various cities across the country. IT professionals began moving away from the large, over populated cities and companies became more open to hiring remote workers.
Companies have started expanding and even moving their head quarter locations to cities with more space and lower cost of living. According to the Dice Tech Job Report, there are some states with multiple cities on the list of the Top 20 Tech Cities based on Job Posting Growth. Florida and Texas hold the most spots with Florida taking the top 2 on the list!
Top 20 Tech Cities by Job Post Growth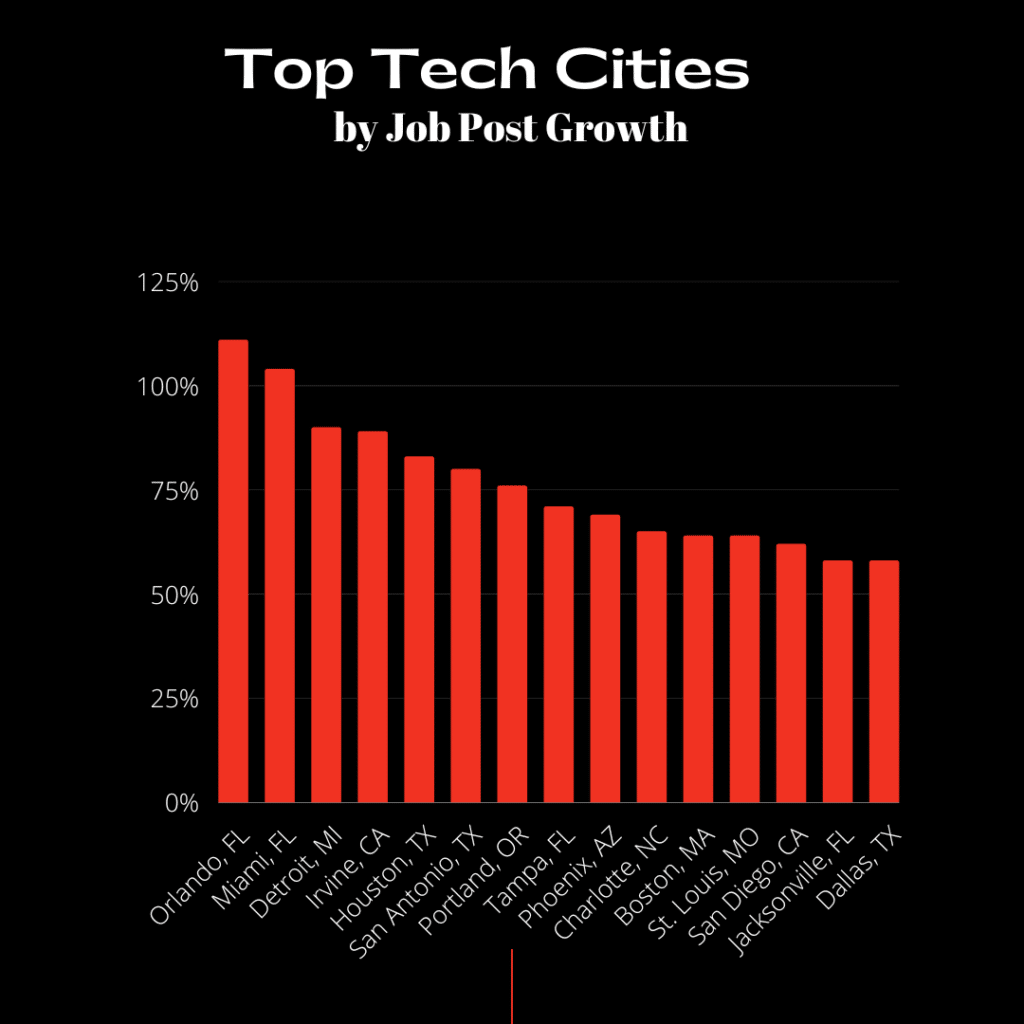 ---
Marketing Trends

Social Media and Digital Marketing jobs are the most in demand marketing roles this year according to LinkedIn's The 2022 Marketing Jobs Report.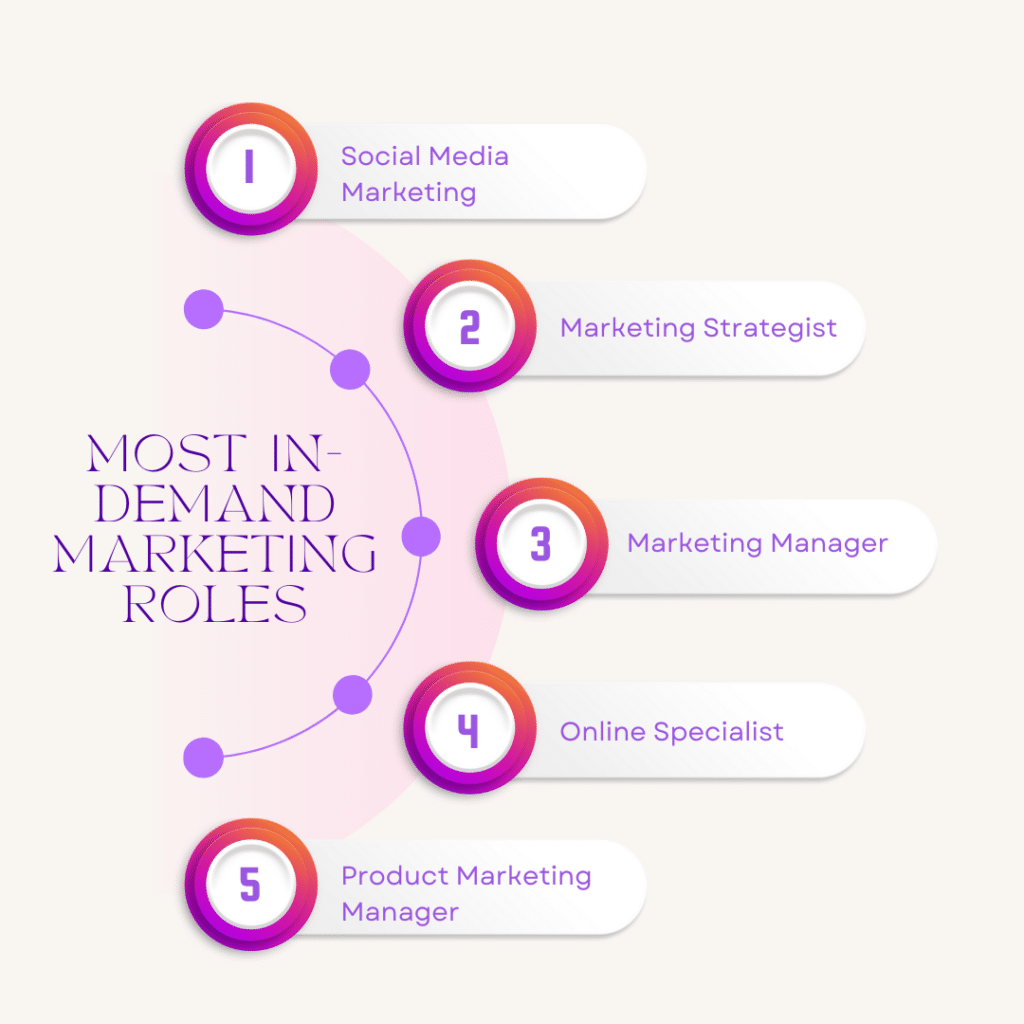 LinkedIn noted that there was a 121% YoY increase in remote marketing job share. In the same report, LinkedIn also noted that some of the hottest jobs in demand this year are social media. The increase in digital marketing skills should come as no surprise since more and more people prefer positions offering some remote flexibility. Digital marketing jobs offer the flexibility that many workers are searching for.
Top Marketing Skills
There are many elements within digital marketing that are often overlooked. In the Digital Marketing Institute's recent whitepaper, 'Perpetual Evolution – the interplay of talent and technology in the future of marketing', they analyzed the future skills required in the marketplace over the next five years. They found that the top hard and soft skills included technology, creativity, analytical thinking, and adaptability. Traditionally, these aren't skills that have been in demand in marketing roles. This means the role of a marketing professional is evolving to include a broader and more complex skillset.
Employers are still looking for the more traditional marketing skills such as paid search, social media, analytics, website optimization, and content marketing. These skills alongside the broader hard and soft skills makes the marketing landscape more competitive. Marketers should think about where they see their career going and look at where the opportunities are in the market. The digital space is huge and is going to keep growing, so they should look at where their current skillset lies and how they can upskill in the future.