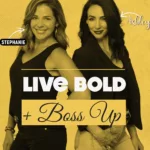 Live Bold & Boss Up, a podcast that strives to elevate business professionals and anyone looking for career and life inspiration, celebrates its three-year anniversary in June 2023.
Podcast hosts, Stephanie Markese and Ashley Jarocki, who have more than two decades of Recruiting, Human Resources, and Talent Acquisition experience between them, have talked shop with more than 100 guests in the last three years. They also had the pleasure of appearing on Great Day Live Tampa Bay to bring their wisdom and insight on the changing job market. They bring their listeners valuable information, meaningful conversations, and a lot of laughter. As co-founders of NextPath Career Partners, they also inspire and empower female entrepreneurs to build their own successful businesses.
"Having these conversations are powerful and open doors for our listeners. Helping each other makes the world go round. We can lift each other up and grow together," Jarocki said.
Their 2022 lineup had some of the most innovative and ambitious leaders in the business and political arena including Mayor Jane Castor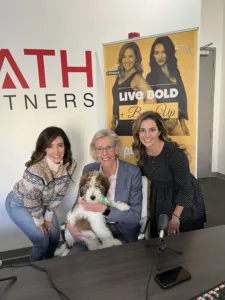 of Tampa Bay, Cathie Wood (seen on Bloomberg.com), CEO of ARK Invest, and Kyla Callahan from the Ryan Callahan Foundation (NHL player for the New York Rangers and Tampa Bay Lightning), to name a few.
This season you will hear from some equally impressive and inspirational entrepreneurs and business professionals speaking on topics such as how to stay competitive in today's market, top negotiation skills, being happy in your job and knowing when the right time is to leave your job, how to find your voice, the power of affirmations, and so much more. Their recent guests include Sunchasers Co-founders, Nellie Coffy and Jocelyn Stradiotto; Duke & Columbia Business Professional and Bestselling Author, Dorie Clark; Dugout Mugs CEO, Kris Dehnert; and previous NFL First round draft pick Center and entrepreneur, Jeff Faine.
"As long as we are adding value and giving back to the community, that is what it is all about," Markese said.
ABOUT LIVE BOLD & BOSS UP: Live Bold & Boss Up with Steph and Ash is a podcast that strives to educate and elevate. They have meaningful conversations with decision-makers in the workplace such as CEOs, entrepreneurs, professional athletes, and more. Ash and Steph, along with their guest speakers, will have you laughing and learning at the same time. Whether you are a business professional growing your career, a recent college grad starting out, or just looking for a little inspiration, their vision and mission are to bring valuable information to you in a fun way.